The Axys Adventures
SCORE: 89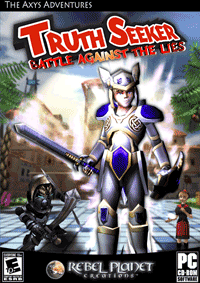 If you want to see just how far Christian video games have come, then look no further than The Axys Adventures Truth Seeker Battle Against the Lies on the Personal Computer (PC). Rebel Planet Creations brought the 'A' material with this action adventure, role playing game. The Legend of Zelda games have the most similar game play style, and feel. Weeds are growing up due to some lies, and it is up to Axys to save the people from the bad vegetation. You play as Axys, in an attempt to save the islands.

The Axys Adventures Truth Seeker Battle Against the Lies has some of the brightest and most colorful graphics I have seen in a video game in years. The details are decent for the PC, and I ran into no graphical problems in this game whatsoever. There is swordplay in hacking and slashing that has earned the E10+ rating. Thankfully though in most areas fighting can be avoided. I always appreciate when a developer allows and/or rewards the player for avoiding violent responses. The artwork in this game is done in a very uplifting way as well. Good and bad are clearly distinctive, which makes playing the game much easier. There are also images that promote a fulfilling relationship with God.

The sounds are very crisp and clear in The Axys Adventures Truth Seeker Battle Against the Lies. The music is very nice, upbeat, and feels good. The themes of the bad guys are done in a tone that denotes them quite well. The voice acting in this game is great, and much better than expected from an independent developer. There are sounds that promote teachings from the Holy Bible. The different sounds work generally well in the game, although once I ran into a glitch relating to the sounds.
One of the biggest shocks to me was the mini games the developer included in this game. They are engaging, fun, and engrossing all at the same time. These mini games are all unlockable. The main quest has enough game play to keep most players busy for a decent number of hours. This is a game if you are into action adventure RPG's that I believe is worth your hard earned dollars.

The controls are quick and responsive. The designs of the levels are done really well. The Axys Adventures Truth Seeker Battle Against the Lies is a fun game to play. My only quibble is with the platform. I have never liked action adventure games done with a mouse. This game would be better in my opinion on a console, or hand held.

The lessons in The Axys Adventures Truth Seeker Battle Against the Lies are good ones for anyone in the family. The fantasy violence means you will want to be sure of the preparedness of your child for such material. This is a great game for Christians wanting alternatives, or as a gift to a friend who likes playing this genre. I would love for Rebel Planet Creations to release a sequel to this game.
- Paul
Graphics: 89%
Sound: 92%
Replay/Extras: 95%
Gameplay: 88%
Family Friendly Factor: 83%
System: Personal Computer
Publisher: Rebel Planet Creations
ESRB Rating: 'E10+' for Everyone 10+
{Fantasy Violence}


Want more info on this product, or the company that made this product?
Set web browser to:
Link

Got a question, comment, or a concern regarding this review?
Email them to:
pbury@familyfriendlygaming.com