Tetris Evolution
SCORE: 88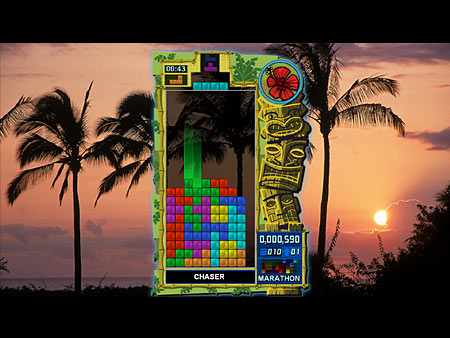 Tetris has been known in the video game industry for a long time. Most puzzle games are compared to Tetris in one way shape or form. Tetris Evolution on the Xbox 360 is a traditional take on the classic series. I found nothing in this game that supports the disproven theory of evolution. The background graphics (which can be videos, slideshows, or just pictures) seems to be the main upgrade this game has over other Tetris titles. Those with Xbox Live Gold memberships can also play one another online (note: it costs additional money to purchase an Xbox Live Gold membership).

Graphically Tetris Evolution is amazing. The videos that run in the background are inspiring. My personal favorite is the one that shows the planet earth from space. It made me think of God, and how much he loves us. The blocks are very bright and colorful, as they usually are in Tetris. The artwork is done nicely, and the plethora of choices for the background take away any irritation that certain videos may cause. I found no offensive images while playing this game.

The sounds in Tetris Evolution are decent. The main Tetris theme song is really nice, and goes quite well with that video. The options that THQ gave with the sounds are also impressive. Players can mix and match songs with videos that fit their personal tastes. The Xbox 360 also allows players to play their very own music. Listening to some Newsboys, and playing some Tetris was a good fit for yours truly. The sounds used to denote a Tetris were actually disappointing to me personally, because I was expecting some more flair like previous Tetris games. I heard no offensive sounds while playing this game offline. Players can chat during online play, and that can include profanity.

The only drawback to a game like Tetris is the potential for addiction. Addiction is a dangerous thing that ruins families. THQ seemed to have tweaked this game to a good level where addiction was not a problem for any of us at FFG that played it. More than one player can play at a time. If you like Tetris and have an Xbox 360, then I think you will get your moneys worth with this one.

I have a niggly in regards to the controls with Tetris Evolution. The normal button pressing I am used to seems to rotate the block in the opposite direction. This only becomes a problem when the action is fast and furious. At that point one mistake can be the beginning of the end of a game. Otherwise the controls are very intelligently designed, and they work.
Tetris Evolution teaches pattern recognition, concentration, and shape building. This game is safe for the entire family. I would love to see sequels, especially if some new blocks, and features were added. It was my pleasure and joy to play this game, and write a review about it.
- Paul
Graphics: 90%
Sound: 88%
Replay/Extras: 81%
Gameplay: 86%
Family Friendly Factor: 93%
System: Xbox 360
Publisher: THQ
Rating: 'E' for Everyone


Want more info on this product, or the company that made this product?
Set web browser to:
Link

Got a question, comment, or a concern regarding this review?
Email them to:
pbury@familyfriendlygaming.com