Super Collapse 3
SCORE: 90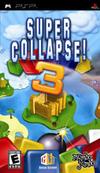 Super Collapse 3 is one of those amazing games on the Playstation Portable (PSP) that warrants the attention of Family Friendly Gaming. Groupings of three of more of the same block color can be removed by moving the on screen cursor on top of them, and pressing the appropriate button. Mumbo Jumbo created some fascinating challenges related to this kind of game play. The most memorable challenge to the WMG is the levels where the player is expected to solve one of the puzzles in so many moves. Thankfully there is no time limit so the player can take their time in thinking about the most efficient solution.
Super Collapse 3 on the PSP is filled with spectacular colors. They are all very bright, and aesthetically pleasing to the eye. The only possible offensive images are the casino style games where the player can wager coins they have collected from levels. These areas are labeled as fun on the map screen so they can be avoided easily. The details in the screens have a nice soft touch to them in a way that enhances Super Collapse 3.
Mumbo Jumbo made sure that the music in Super Collapse 3 is pleasing to the ear drums. The sounds that are used in this PSP video game enhance the experience (editor: which is already a good one). Joy was brought to the WMG's life from the sounds found while playing Super Collapse 3.
The WMG is shocked at how many wonderful levels are included in Super Collapse 3. It makes one think about classic video games like Super Mario Bros. 3 in terms of the amount of levels. There are plenty of different paths to take, and things to unlock. Stores are found in a variety of areas to purchase special items that can be used in levels. Wi-Fi is available so more than one player can cooperate or compete.
The WMG checked out the Nintendo DS version to be able to compare the controls. The controls in the Playstation Portable version of Super Collapse 3 work just fine. However they are not as intuitive as the ones on the DS. The action seems to have been slowed down in this version to give the player a fighting chance. It is however still fun, and in the upper tier of PSP video games. The intelligent design of the level layouts is also evident.
The only morally objectionable material in Super Collapse 3 is the casino mini stages that can easily be avoided. Like any puzzle video game addiction can be a problem. For the WMG this game was not one that was very addictive, even though it had some nice lessons in it (editor: color and pattern matching). PSP owners should consider this one.
- Working Man Gamer
Graphics: 91%
Sound: 90%
Replay/Extras: 93%
Gameplay: 88%
Family Friendly Factor: 87%
System: Playstation Portable
Publisher: Mumbo Jumbo
ESRB Rating: 'E' for Everyone
{Simulated Gambling}


Want more info on this product, or the company that made this product?
Set web browser to:
Link

Got a question, comment, or a concern regarding this review?
Email them to:
WorkingManGamer@familyfriendlygaming.com