Petz Hamsterz 2
SCORE: 90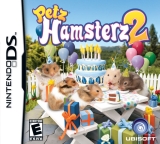 The WMG is very excited that the task of reviewing Petz Hamsterz 2 came this reviewers way. Anyone who has had hamsters know what kind of an awesome, fun, and entertaining pet they can be. The WMG has had them, and aside from being bit occasionally, its all good. The first Hamsterz video game scored so well here at FFG that our review score made it on the front cover of the game. So could Ubisoft make lightning strike twice with these little digital mammals? Hamsterz 2 changes it up drastically from the last game, so the answer to that question really lies in your personal preferences.
The graphics in Hamsterz 2 on the Nintendo DS is a graphical upgrade with a caveat. That caveat is running all around the room with the hamster has been replaced with having multiple cages. Friends can be visited, so two hamsters can hang out. To the WMG this is a bit of a disappointment since running around the room with the hamster is very realistic, and a lot of fun. The WMG was hoping they would have added running around in a room inside a ball. Hamsters can now sling themselves out of the running wheel in an unrealistic but humorous animation.
Hamsterz 2 has decent audio that goes along generally well with this DS video game. The music found is decent for a hand held video game. The microphone usage has been dropped to a level that is very disappointing to the WMG. That was a lot of fun in the original game. There are no offensive sounds though.
Hamsterz 2 requires the player to feed their hamsterz once per day, and making them happy earns stars. These stars are used to purchase items. There are plenty of items, and a fair amount of computer players to interact with. If that were not enough players can visit other hamsters via wireless.
There are a few mini games that can be played in Hamsterz 2, but overall this has been scaled back as well. The WMG is not sure why since the original Hamsterz Life was so critically acclaimed. Sometimes changing things does not work out so well. The controls work well, and it only took a few minutes to figure out the new configurations to the menus. There are a couple of menus that could have been designed better in this reviewers opinion. Hamsterz 2 is a fun little game that can be played for a few minutes a day.
Breeding has been added, but in a nice way that hopefully should not offend. Hamsterz 2 is generally rather safe, and actually includes a storyline for those that get tired of taking care of their rodent(s).
- Working Man Gamer
Graphics: 90%
Sound: 87%
Replay/Extras: 98%
Gameplay: 90%
Family Friendly Factor: 85%
System: Nintendo DS
Publisher: Ubisoft
ESRB Rating: 'E' for Everyone
{Comic Mischief}

Want more info on this product,
or the company that made this product?
Set web browser to:
Link

Got a question, comment,
or a concern regarding this
review?
Email them to:
WorkingManGamer@familyfriendlygaming.com