Nik and Kit
SCORE: 75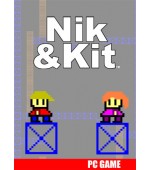 Breakthrough Gaming is an independent developer that Family Friendly Gaming has been aware of for a very long time. In fact we have enjoyed some of their interesting ideas for video games in the past (ZJ the Ball being the most memorable). Independent developers don't have as much money (or other resources), as the big developers, and we always keep that in mind when reviewing their games. Nik & Kit is a retro style game in graphics, and sounds. In at lot of ways this is like an old Atari 2600 game. This Personal Computer game (PC) includes three gameplay modes: Story, Arcade, and Two Player. There is a definite Christian message in Nik & Kit. Could Breakthrough Gaming make lightning strike twice, or is this game marking a decline for this independent developer? Read on for the answer to that.

Graphically Nik & Kit is pretty plain, especially since it is on the Personal Computer. Yes it resembles Atari 2600 games, and may be slightly better in visuals than most games from that era; but then that era was in the 1970s (thirty years from the time of writing this). As the screen shots on this page show the color scheme is quite limited to a couple of colors. There are images that promote a relationship with Jesus Christ, and that is admirable indeed.

The sounds also have the same problem as the graphics. In fact we have grown accustom to some really nice songs from Breakthrough Gaming, and sadly Nik & Kit are not even at that normal standard. It is really a shame that the sounds are not as enjoyable as previous Breakthrough Gaming games. There are no offensive, or annoying sounds; part of that is there is so few sounds effects that in this area of the game it feels half done.

Nik & Kit takes the biggest hit in the replay and extras department. There are five levels to this game. Has that sunk in yet? There are only five levels. I beat this game the first time I played it in ten minutes. Sure the game only costs $9.95 US Dollars, but in this humble reviewers opinion it is not worth that much. There really is no reason to replay this game after it has been beaten. Two players can play the game at the same time, but let us be realistic about playing in front of a computer with more than one person. Two people crouching around a computer at the same time is not the most enjoyable experience. Games from the Atari 2600 era that were like this had random map generators, or a hundred levels.

Nik & Kit controls really well, and the control design works good too. The designs of the levels is really nice in a couple of the levels, and will keep the player on their toes. The main problem is the length of this game. It was fun for that ten minutes, and then another fifteen as two of us played it. More levels were needed, and that is what brings Nik & Kit down. I could not even get into this game before it ended.

I wanted to like this game so badly, but I have to remain intellectually honest. Family Friendly Gaming has a reputation of being fair and balanced. You trust our opinions on video games, and where to spend your hard earned dollars. At times that means writing a review that will make a game developer unhappy. I tried to get the point across without being harsh. This is not a game that I would recommend, in fact I am telling most everyone to pass on Nik & Kit. This game has good teachings in it, and it is safe for the entire family to play. It just needed to have a lot more levels to be worth the price of admission. Retro games work, but a new retro game should be at least up to the level of those retro games.
-Paul
Graphics: 77%
Sound: 73%
Replay/Extras: 63%
Gameplay: 80%
Family Friendly Factor: 83%
System: Personal Computer
Publisher: Breakthrough Gaming
ESRB Rating: 'NR' for Not Rated


Want more info on this product,
or the company that made this product?
Set web browser to:
Link

Got a question, comment,
or a concern regarding this
review?
Email them to:
pbury@familyfriendlygaming.com