Nancy Drew Legend of the Crystal Skull
SCORE: 83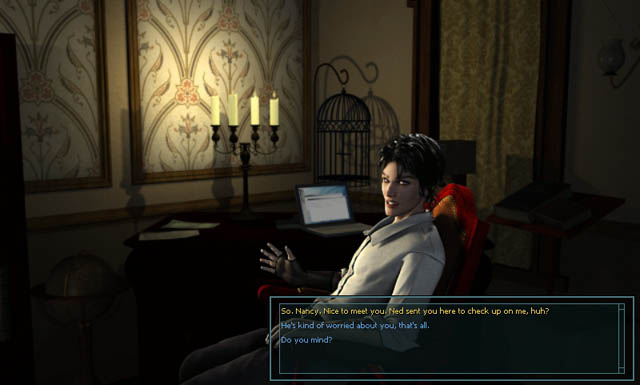 Her Interactive came to my attention recently with their sixteenth PC video game The White Wolf of Icicle Creek. Legend of the Crystal Skull continues the Nancy Drew mystery adventures. An elderly eccentric dies who allegedly had a crystal skull that grants immortal life. Nancy checks out the mystery and the assortment of diverse characters. It is important to note that while the ESRB gave this game an 'E' for Everyone rating, but the publisher states this game is for mystery fans from the age of ten to adult.
The visuals in Nancy Drew Legend of the Crystal Skull start out very dark. A lot of the subject matter concerning hoodoo, and demonic spirits is also on the darker side. Later in the game there are a lot of parts that do brighten up. The graphics do go along with the mood that fits into this mystery. Realistic looking images are still found in this franchise. This is not all hearts and sunshine like the Nintendo DS Nancy Drew video game. Nancy is attacked at the beginning so there is some very light violence in this game.
The sounds also add to the theme, and the voice acting shows a lot of emotion, just like the TWWOIC. One of my favorite parts is when a friend of Nancy feels bad about making someone sneeze in order to snoop around for clues. This kind of regret adds a nice dimension to her character.
Once the player makes it through the main game, there is little reason to replay. With that said there are some brain teaser puzzles found within this game that can take multiple tries in order to achieve the desired result. Her Interactive keeps the prices down, and this is one deep mystery.
The first thing any player needs to realize about Nancy Drew Legend of the Crystal Skull is there is a task list in case you get stuck. Certain puzzles may take a few tries to figure out, and there were times I was not sure what to do next. An improvement is found in the rotating around a room controls which is an excellent. The darker edge took away some of the fun for me, and added an aspect of apprehension.
Nancy Drew Legend of the Crystal Skull is a piece of fiction. With that said there are some very real voodoo concepts in this game. I want all our parents to be aware of the content. Talk to your children about the content. Nancy is out to solve a mystery and to help those who can no longer help themselves (editor: translation they have died).
- Yolanda
Graphics: 78%
Sound: 87%
Replay/Extras: 81%
Gameplay: 89%
Family Friendly Factor: 82%
System: Personal Computer
Publisher: Her Interactive
ESRB Rating: 'E' for Everyone
{Mild Violence}

Want more info on this product,
or the company that made this product?
Set web browser to:
Link

Got a question, comment,
or a concern regarding this
review?
Email them to:
craftiemom@familyfriendlygaming.com