Namco Museum Remix DS
SCORE: 89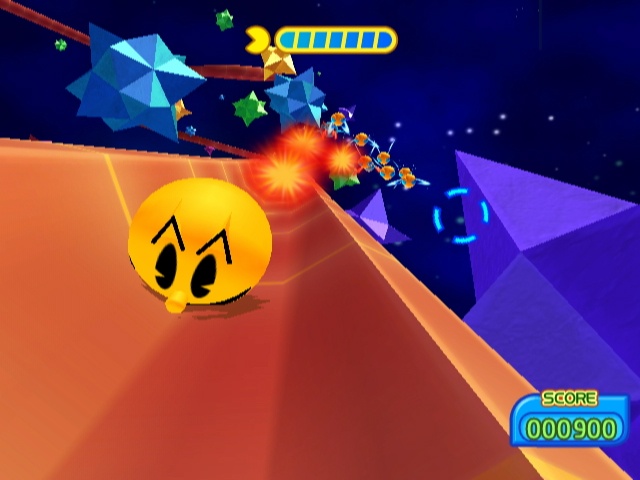 For those that have been reading my reviews for years - ya'll know I am not a fan of compilations anymore. Too often developers are emulating their older games on newer systems, putting it in a package and expecting gamers to re-purchase the same old same old. When I booted up Namco Museum Remix I was more than a little skeptical. Boy did Namco Bandai blow my socks off with this Nintendo Wii video game. There are some amazing older video games remixed to either fit the Nintendo Wii, or just upgraded. This compilation is pretty Pac-Man heavy, so your opinion of that franchise will most likely dictate your response to this game.
There are a lot of wonderful, bright, and energetic colors found within Namco Museum Remix. The camera works great in each of the remixed, and classic video games. The only possible problem I could see was the shooting games with Galaga Remix topping the charts.
I have really enjoyed those classic sounds from Pac-Man video games for years. Those chomp-chomp sounds have been a favorite of mine since I first heard them. The music is almost all Pac-Man themed, which is something I liked. There are shooting sounds found within Namco Museum Remix but they seem toned down a little to me. Maybe Namco Bandai read Luke's Namco Museum DS review and made the proper adjustments.
I have been a fan of video games that bring people together in good, clean family friendly fun since I started Wyldcard's Way (editor: publication before Family Friendly Gaming). Almost every single game in this compilation allows for multiple players at the same time. There is plenty of replay value in each of these games. To me this is a game that is worth your hard earned dollars for a couple of reasons. Support of games like this one will mean more of the same in the future, and there is a lot of family friendly fun found within Namco Museum Remix.
One of the most interesting lessons I learned while playing Namco Museum Remix was the adjustability of the controls. Namco Bandai made sure that players had choices as to how to control most of these games. This intelligent design show they are doing what they can to include family members who are not traditional gamers. Every single staffer at FFG that played Namco Museum Remix had a blast.
The core of this compilation is Pac-Man. There are some shooting games, but not as many. I really like how Namco Bandai put so much effort into the remixes, especially the multi player aspects. I would love to play a sequel to Namco Museum Remix.
- Paul
Graphics: 88%
Sound: 89%
Replay/Extras: 94%
Gameplay: 92%
Family Friendly Factor: 84%
System: Wii
Publisher: Namco Bandai
ESRB Rating: 'E' for Everyone
{Mild Cartoon Violence}

Want more info on this product,
or the company that made this product?
Set web browser to:
Link

Got a question, comment,
or a concern regarding this
review?
Email them to:
pbury@familyfriendlygaming.com