Mercury Meltdown Revolution
SCORE: 94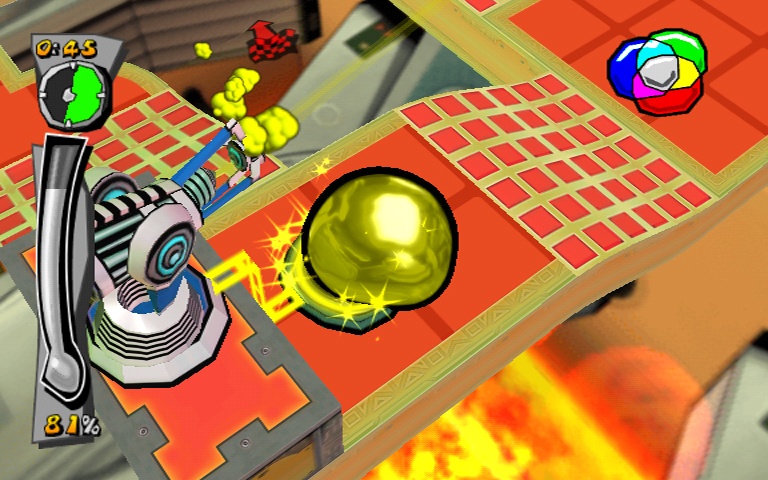 Some video games miss my radar, but the second I do find out about them I am on top of them like hats on baseball players. Mercury Meltdown Revolution for the Nintendo Wii is one of those video games, and boy am I glad that I heard about this one. The player has a glob of mercury that needs to be rolled around to the end goal. But Super Monkey Ball, and Kororinpa Marble Mania fans need to know there is more to it than that. This glob can be separated, and there are special items that will change the color. Mixing certain colors will produce new colors. Certain doors, switches, and exits can only be used if the mercury is the matching color. Hence the strategy comes into play with the one hundred and fifty levels found within this Nintendo Wii home console video game. A timer is present as well as the need to get so much of the mercury to the goal.
The cel shading used in Mercury Meltdown Revolution works. I am normally not a fan of that graphical style, but Ignition Entertainment pulled it off. There are plenty of colors found within Mercury Meltdown Revolution, including a color wheel that sparked a debate here at Family Friendly Gaming. The primary colors of red, blue, and green are used, which is light primary colors; many probably are used to red, blue, and yellow as primary colors.
The musical content within Mercury Meltdown Revolution is very pleasing to the ear. I enjoyed the music, and the entire lab based themes. The bubbling sounds while a screen is loading is a very nice touch in my humble opinion. I did not hear anything offensive.
Mercury Meltdown Revolution includes plenty of levels, and reasons to replay. There is a good amount of unlockable content including party games. This game can be found for under twenty US Dollars, so it is worth your hard earned dollars in my book.
Mercury Meltdown Revolution falls somewhere in between the Super Monkey Ball, and Kororinpa Marble Mania when it comes to difficulty. It is not as difficult as the first, but more of a challenge than the second. The color scheme can take some getting used to for some players. The game let me beat quite a few levels even though I ran out of time, and that concept is much appreciated. The physics of the mercury has to be seen to be believed. I had a blast playing this Wii game, and think you will as well.
I really enjoy video games like Mercury Meltdown Revolution. This game is safe for the entire family, fun, and teaches a few good things. Pastors get my recommendation, and any gamer who enjoys good, clean, wholesome, and uplifting video game fun.
- Paul
Graphics: 92%
Sound: 95%
Replay/Extras: 100%
Gameplay: 90%
Family Friendly Factor: 94%
System: Wii
Publisher: Ignition Entertainment
ESRB Rating: 'E' for Everyone

Want more info on this product,
or the company that made this product?
Set web browser to:
Link

Got a question, comment,
or a concern regarding this
review?
Email them to:
pbury@familyfriendlygaming.com