Holly Hobbie and Friends
SCORE: 91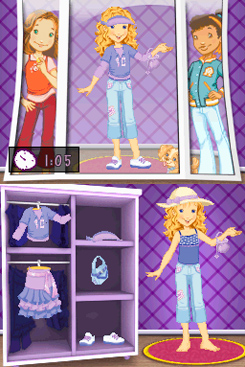 I do not remember Holly Hobbie being around when I was a little girl. Maybe it was around though. She and her friends have made it to the Nintendo DS care of Majesco Entertainment. That publisher happens to be one of my personal favorites with games like Cooking Mama in their stable. Holly Hobbie & Friends on the Nintendo DS is a compilation of mini games packaged around the days of the month. Holly and her friends do different chores throughout the week in order to host (editor: or participate) in some event on the weekend.
The visual representation in Holly Hobbie & Friends has a lot of wonderful, bright, and vibrant colors. Some of the mini games look better in their graphical representation than others, but all of them have nice details. The girls are all very happy, friendly, and uplifting in their representation. Wholesome images are used properly in this game, and I did not find any offensive images.
The music heard while playing Holly Hobbie & Friends brought joy to my life. The special effect sounds, and music is crisp and clear like the dew on the grass. The audio department of this game bring something to the table by making it all work together in complete harmony.
Some of the mini games are very similar in Holly Hobbie & Friends. An example would be making sandwiches, or making a salad. I found them to be fun, and the girls I let try this game also found them to be engaging. Playing one mini game a day, and eventually making it through a week really makes this game fly by. I found it to be fun, and feel it is one of those games worth your money. If you have young girls into Holly Hobbie, then seriously think about this one.
The touch controls work good in Holly Hobbie & Friends. I found a definite intelligent design to which mini games played when. The layout of everything works nicely as well. I did run into one issue while playing Holly Hobbie & Friends. The cutting part of the food preparation took a little getting used to. It is a little different from Cooking Mama. The up and down motion must be done, then the stylus has to be picked up off the touch screen. This little quirk is worth a mention.
Holly Hobbie & Friends does a lot to teach helping others, and bringing joy to their lives. This is done in an innocent, and fresh way that I find very impressive. I was worried that this would be just a lot of mini games thrown together, but there is a lot of packaging around them. Girls of all ages (editor: that can read) will find this to be a fun video game that has game play that interests them.
- Yolanda
Graphics: 90%
Sound: 89%
Replay/Extras: 95%
Gameplay: 86%
Family Friendly Factor: 96%
System: Nintendo DS
Publisher: Majesco Entertainment
ESRB Rating: 'E' for Everyone

Want more info on this product,
or the company that made this product?
Set web browser to:
Link

Got a question, comment,
or a concern regarding this
review?
Email them to:
craftiemom@familyfriendlygaming.com