Heavenly Harmony Karaoke
SCORE: 91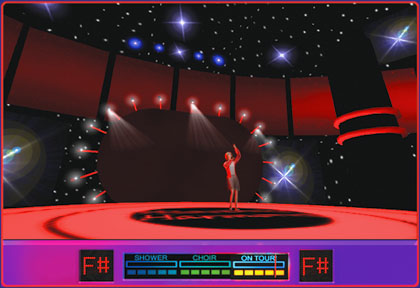 Cloud 9 Games has been making quite a name for themselves since their inaugural release. Heavenly Harmony Karaoke is such a great idea that Family Friendly Gaming had to get a review done, and put online before the game is released to retailers. Heavenly Harmony Karaoke takes awesome Christian songs that range from classics to contemporary. Songs like Amazing Grace are spectacular to have included. Cloud 9 Games did not stop there, because songs can be added in. The singers pitch is measured and the game lets the player know if they are too sharp, or too flat. The game is very nice about mistakes, and lets the player know where they need to work on their singing ability. A lot of people could avoid embarrassment if they played this vocal performance game before going onto a television show like American Idol.
Heavenly Harmony Karaoke has decent graphics for the Personal Computer (PC) that have some nice colors. The models of the singers look a little bit better than the Sims, but will not require the newest graphics card to play it. The lyrics to the songs helps a lot. I did not find any offensive images while playing this game.
The sounds in Heavenly Harmony Karaoke are really cool. The music is some of the best out there, and with additional packs coming in the near future it only looks better. The music is very cheerful with excellent lyrics. The music uplifts, encourages and improves our lives. I heard no offensive sounds while playing this game.
If you think you are all that and a bag of chips, then prepare for a reality check. This game shows that hitting all the notes at the exact right time is not easy. Players can replay many of the different songs, with different singers to try and get it just right. This is the kind of a video game that is most definitely worth your hard earned dollars.
On a rare occasion I had some problems with the microphone controls, but that had more to do with not having the microphone close enough to my mouth. It also took me a few tries to figure out when exactly to sing the words. The artist singing the song is in the background so that helped tremendously.
Games like this one are exactly why I play video games. The creativity, and innovation of this game show that fresh new ideas are still happening in the industry. Heavenly Harmony Karaoke is safe for the entire family, and one that my pastor will be looking for once it is released to the public. I am looking forward to the additional song packages being released in the near future.
- Frank
Graphics: 82%
Sound: 99%
Replay/Extras: 89%
Gameplay: 86%
Family Friendly Factor: 100%
System: Personal Computer
Publisher: Cloud 9 Games
ESRB Rating: 'E' for Everyone

Want more info on this product,
or the company that made this product?
Set web browser to:
Link

Got a question, comment,
or a concern regarding this
review?
Email them to:
GameReviews@familyfriendlygaming.com