Go Diego Go Safari Rescue
SCORE: 88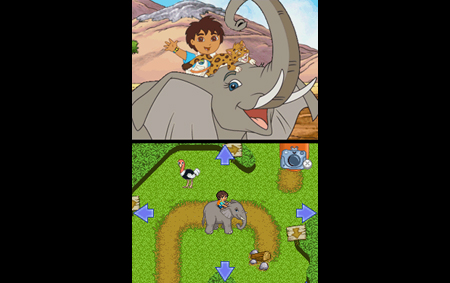 2K Play has been recently created by Take-Two Interactive, and has signed a contract with Nickelodean to release preschool focused video games. Go Diego Go Safari Rescue for the Nintendo DS is one of two Nick Jr. based characters. An evil magician starts messing with African animals and it is up to Diego to fix the problem via his magic drum. In a lot of ways this DS game is a lot like the television show that millions of children know and love. Go Diego Go Safari Rescue has a definite Latin flavor to it, and there is plenty of Spanish speaking found within it.
The graphics in Go Diego Go Safari Rescue are close to the quality of the cartoon show, and yes I took some time to watch the cartoon as part of my research for this review. A wide array of colors are used from the rainbow, along with the African themed colors. In fact one of the mini games teaches different colors to the children. Certain areas have wonderful details to the graphics, and others seem pretty simplistic. It is doubtful that your children will notice the difference though.
The voice acting sounds like it came directly from the show. I got to hear 'Muy Buen' a lot, and hopefully your children will as well. The music is also just like the television show (DVD's, etc.). Diego is very encouraging in aspects of exploration, helping animals, and completing tasks. I did not find any offensive sounds while playing Go Diego Go Safari Rescue.
It took me under thirty minutes to beat Go Diego Go Safari Rescue. I am an adult however, and it does take children a longer length of time to complete. I also did not find all the different animals that are hidden throughout the levels. The mini games are good training for kids. The children we tested it with enjoyed replaying it.
The multiple functions of the Nintendo DS are utilized quite well in Go Diego Go Safari Rescue. This ranges from blowing into the microphone to cool off the jaguar, to tapping on the screen to simulate tapping on a drum. The game is very forgiving when it comes to speaking certain words into the microphone. I had fun with Go Diego Go Safari Rescue, and noticed children did as well. The box says 'Kid Tested' and I believe it.
I really like Go Diego Go Safari Rescue, and wish more kids games like this one will make it to the Nintendo DS. Family Friendly Gaming has been clamoring for these games. In order for more to make it parents need to support this product in the open market place. Sequels would be most welcome with me, and this is one I will be mentioning to my pastor. Go Diego Go Safari Rescue is definitely safe for the entire family, but targeted towards the preschoolers.
- Paul
Graphics: 87%
Sound: 90%
Replay/Extras: 78%
Gameplay: 92%
Family Friendly Factor: 94%
System: Nintendo DS
Publisher: 2K Play
ESRB Rating: 'E' for Everyone

Want more info on this product,
or the company that made this product?
Set web browser to:
Link

Got a question, comment,
or a concern regarding this
review?
Email them to:
pbury@familyfriendlygaming.com