Garfields Nightmare
SCORE: 95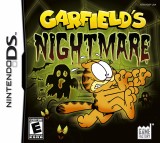 Garfield's Nightmare on the Nintendo DS received the 2007 Parents' Choice Silver Honor award for Fall in the year of our Lord 2007. Garfield tried to save time by eating a whole lot at once. He went to sleep with a broken alarm clock in the real world. A terrible nightmare befell him with no way of waking up. So Garfield must traverse the nightmares in order to find the pieces of his alarm clock. Garfield's Nightmare is a 2D platformer with item collection. Garfield can vanquish some of the enemies by jumping on them.
The graphics in Garfield's Nightmare are very bright and colorful. I really like the details used within this Nintendo DS game. The game is played in a 2D way, but has some nice 3D graphics that add a nice layer of depth. The only violence found within is when the player decides to jump on the enemies (vanishing leaving a coin). The pattern the enemies take make it just as feasible to jump over, or duck under.
The Game Factory has really been about high quality video games since Family Friendly Gaming has worked with them. Garfield's Nightmare is no exception as the music is exceptional. All of the sounds work well in this game, and they brought joy to my life. We go beyond here at Family Friendly Gaming as we let the target age children play this game and they loved it.
There are four worlds with five levels each, and mini games included. The thing that amazes me is exactly how huge each of the levels is. Tons of secret areas are hidden throughout each level adding to the replay value. Only one player can play this game at a time. Garfield's Nightmare is a game that I feel is worth your hard earned dollars.
The controls in Garfield's Nightmare are spot on perfect. As previously mentioned the levels are huge (editor: think of the old Sonic the Hedgehog Genesis games). Shin'en (developer) certainly knows how to create levels with a very intelligent design. There are some puzzles to solve in the game, usually having to find a nearby switch. The mini games can be a little more difficult to find though. Ultimately this is a very fun game to play.
I spent quite a few hours traversing the levels in Garfield's Nightmare, and found it to be a fun and safe environment for all ages of the family. It was my pleasure to play and review Garfield's Nightmare for the Nintendo DS. I will be recommending this game to my pastor, and to all ya'll. I would love to see some sequels to this fun little platformer released. Remember don't eat too much before bed time.
- Paul
Graphics: 90%
Sound: 96%
Replay/Extras: 94%
Gameplay: 98%
Family Friendly Factor: 96%
System: Nintendo DS
Publisher: The Game Factory
ESRB Rating: 'E' for Everyone
{Comic Mischief}

Want more info on this product,
or the company that made this product?
Set web browser to:
Link

Got a question, comment,
or a concern regarding this
review?
Email them to:
pbury@familyfriendlygaming.com