Game Party
SCORE: 85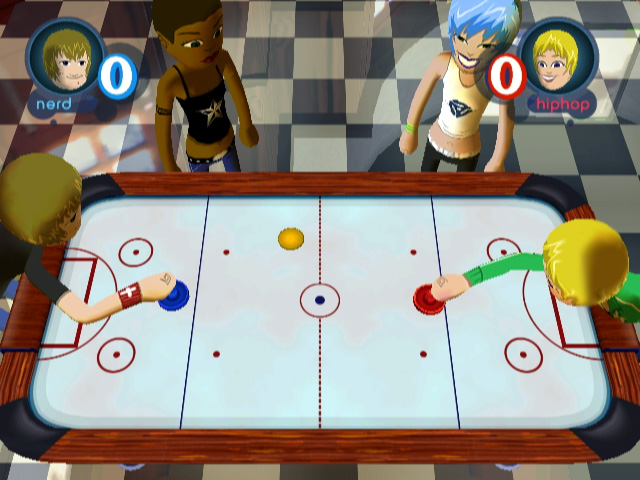 There are games on the market now that are just plain fun. Game Party on the Nintendo Wii is one such plain game that is pure fun. There are seven games included that make me feel like I am at the local arcade. The seven games included are Darts, Table Hockey, Skill Ball, Hoop Shoot, Ping Cup, Shuffle Board, and Trivia. Midway included tons of playable characters along with unlockable ones for those wanting to find everything in the game. Some of the games are for more than one player at a time, whereas others are for only one person. Games like Hoop Shoot should allow for more than one player, so the design makes little sense.
The graphics are okay, but it looks like Midway did not tax the Wii to the max. There are plenty of characters in this game, and even though some of them are dressed inappropriately their lack of detail negates the enticement to lust issue. When the player makes a mistake the characters have some extremely ugly expressions on their faces.
I really enjoyed the sounds in Game Party. The music that welcomed me into this game got my blood pumping, and I was ready for some family fun. The different games all have sounds that reflect the activity. For example the dart board sounds realistic, and the crowd reaction does as well. Game Party really ushers in cooperative, and friendly competition in the arena of sounds.
Midway tapped into the old school kind of gaming where the goal was to get the highest score. If you have the highest score, then do what you can to break that high score. I found a lot of replay value in this game, and had a lot of fun playing with different people. There are enough unlockables to keep most busy for a few months. The one drawback is if you are not into these games, then you will not have an interest in replaying Game Party. This is the kind of a game that is worth the twenty dollars or less it is currently retailing for.
Some of the control aspects in Game Party make little sense to me. In fact a couple of staffers here at Family Friendly Gaming ran into control issues with the on screen instructions not quite matching how the controls work. Once we figured out how to properly control the games, we had a lot of fun playing - especially the Air Hockey style game (editor: Table Hockey).
There are a couple of very minor issues with Game Party - the attire of some characters being at the forefront. There are also characters like Santa, but I did not find a Jesus Christ. Such lop-sided inclusion makes little sense to me. Overall though Game Party is a good, fun game for the family. I would like to see more video games like this on the Nintendo Wii, especially if more than seven games are included.
- Paul
Graphics: 84%
Sound: 93%
Replay/Extras: 91%
Gameplay: 77%
Family Friendly Factor: 82%
System: Wii
Publisher: Midway
ESRB Rating: 'E' for Everyone

Want more info on this product,
or the company that made this product?
Set web browser to:
Link

Got a question, comment,
or a concern regarding this
review?
Email them to:
pbury@familyfriendlygaming.com