Brave Story New Traveler
SCORE: 61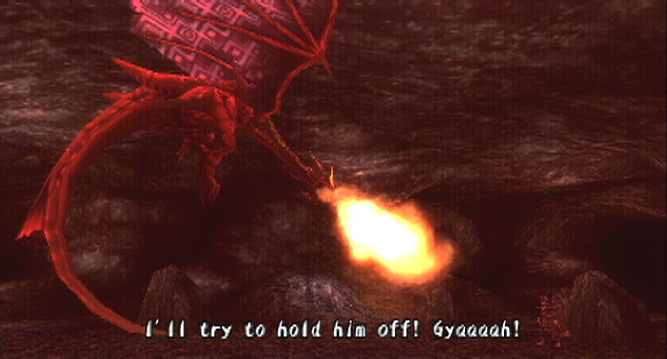 For a long while the RPG Master has been disappointed with the role playing game genre. There have been few RPG games that have drawn the RPG Master into them, and where the RPG cared about the characters. Enter Brave Story New Traveler from Xseed Games. Not only does this Playstation Portable video game draw the player in, but it also has a nice rich world that reminds one of the Chronicles of Narnia. The main character is drawn into this fantasy world and offered a wish from a goddess.
The graphics in Brave Story New Traveler are very themed for each area. The mines, and caves look dark, and dank. The desert looks sandy and bland. The forest looks green and lush. There is some violence as the player gives the command and the characters enact them. This is however covered nicely with 1960's style Batman phrases. Many of the female characters are dressed in a way to entice to lust. Why are women going off and fighting monsters wearing hardly anything, but men get all the armor?
The sounds are just spectacular. The first word that comes to mind to describe the musical score in Brave Story New Traveler is majestic. Xseed Games really hit the nail on the head with the music, and sound effects. No offensive sounds were heard while playing this game.
Brave Story New Traveler includes a bird fighting mini game that bothers the RPG Master. The length of the game is just right, and there is plenty to find after the game is beaten.
Brave Story New Traveler controls very well. There are two issues in the gameplay department that deter. The first is talking to people, which can be a pain since they need to be facing the player. The second issue is the lack of saves in many areas. This is a hand held video game, thus saving in the field should have been an option.
Hopefully the day will come when regionalization of video games into America will have God put in them, and not a goddess. Trying to save ones friend, and the beginning commentary on the problems of video games are excellent lessons to be taught. Brave Story New Traveler has a few issues with it that we are bothered by at Family Friendly Gaming, but there is also a lot of good. Some sequels to this game would be welcome indeed.
- RPG Master
Graphics: 55%
Sound: 73%
Replay/Extras: 59%
Gameplay: 65%
Family Friendly Factor: 54%
System: Playstation Portable
Publisher: XSeed Games
ESRB Rating: 'E10+' for Everyone 10+
{Language, Mild Fantasy Violence, and Suggestive Themes}

Want more info on this product,
or the company that made this product?
Set web browser to:
Link

Got a question, comment,
or a concern regarding this
review?
Email them to:
GameReviews@familyfriendlygaming.com