Bone Monkeys vs Dinosaurs
SCORE: 92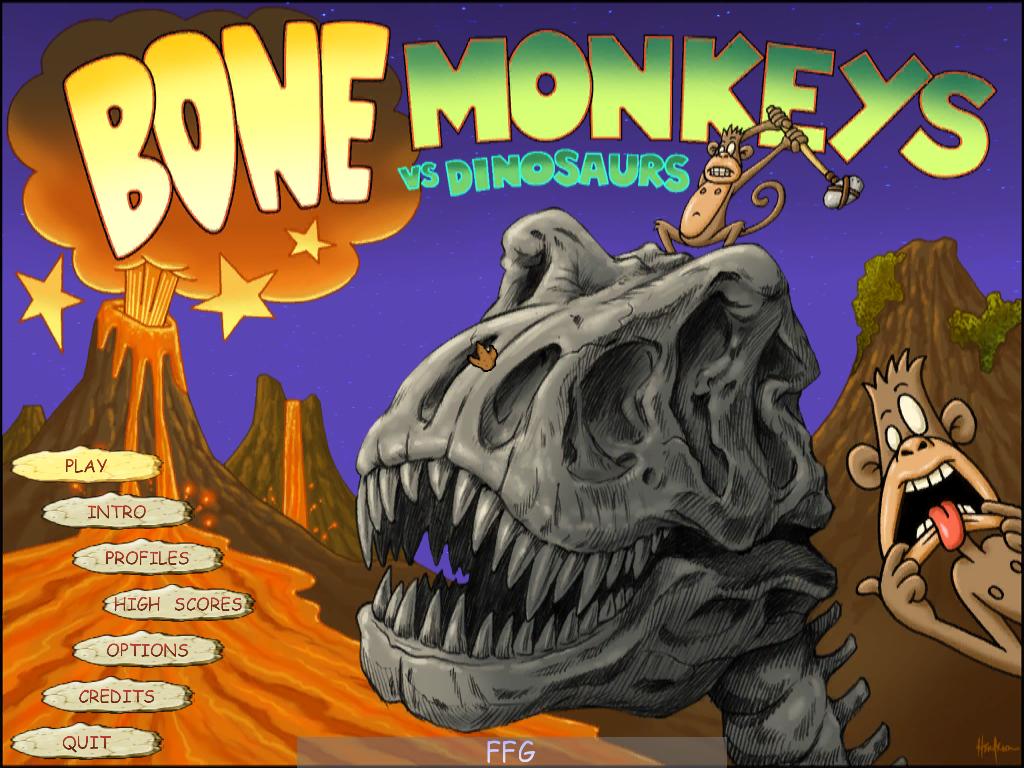 I have a honest confession to make concerning Bone Monkeys vs Dinosaurs on the Personal Computer - I did not think much or highly of the game based on the title. Monkeys and dinosaurs, oh boy here we go with another game that promotes the disproven theory of evolution. Well my first impressions (from judging that book by its cover) were way off base. This is a cute little game that safely teaches about dinosaurs. The player must protect the dinosaur bones from these mischievous monkeys who are trying to bash the bones. The player protects the bones with a cannon that shoots out beach balls. Special floating items that are hit will bring up questions that will test the players knowledge of dinosaurs. Kids can have fun, and learn at the same time.
Graphically Bone Monkeys vs Dinosaurs does a decent job being bright and colorful. Some of the game's backgrounds are black, but those are thankfully short lived. The monkeys are done in 2D (think Paper Mario), and the dinosaurs are done in glorious 3D. The player rotates the camera around the dinosaur to get to all the pesky little monkeys. The art work is done in a fun manner that is a little quirky. The cartoon violence with the beach balls is not even quite to the level of Loony Tunes.
The sounds in Bone Monkeys vs Dinosaurs are a nice mixture of speech, and music. The upbeat Professor D imparts a lot of energy in her educating, and encouraging. You know how we feel about titles that uplift, edify, and encourage. The sounds work well, and the music is cheerful. The only parents I can see who would have a problem is those who are staunchly into Young Earth. I believe in Young Earth, and was not offended in the few questions that touched on timelines.
There are three difficulty settings in this game, and plenty of questions. This game is ideal for children interested in learning about dinosaurs in a fun way. In my opinion this game is worth your hard earned dollars. It can be downloaded for twenty US Dollars, or a CD can be purchased for thirty.
The gameplay in Bone Monkeys vs Dinosaurs works well, and the more aggressive the player the better they will do. However getting too aggressive with certain power ups can cause trouble for the dinosaur. I had a lot of fun playing this game, because the right mix (of game play and education) was found by Kaibridge Inc.
I really enjoy playing games that teach good things while they are entertaining. Bone Monkeys vs Dinosaurs is one such game. I would love for there to be a sequel to this game, especially if different lessons were included (or able to be plugged in). This game is safe for the entire family. The beach ball cannon is more comical than violent.
- Paul
Graphics: 86%
Sound: 95%
Replay/Extras: 95%
Gameplay: 94%
Family Friendly Factor: 90%
System: Personal Computer
Publisher: Kaibridge Inc
ESRB Rating: 'E' for Everyone
{Comic Mischief, Mild Cartoon Violence}

Want more info on this product,
or the company that made this product?
Set web browser to:
Link

Got a question, comment,
or a concern regarding this
review?
Email them to:
pbury@familyfriendlygaming.com