Blokus Portable Steambot Championship
SCORE: 88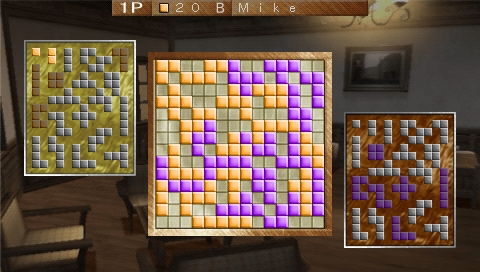 Blockus is a four player Japanese board game that requires skill, strategy, and just a little luck. Majesco Entertainment took this amazingly popular game (it has sold 3 million copies worldwide since it was released in 2000) and merged it with anime characters from the Steambot Championship series. All of this without worrying about losing small little board game pieces. Blokus Portable Steambot Championship is one of those fun little video games that can bridge the generational gap. Grandparents, their children, and the grandchildren can all enjoy this kind of a Playstation Portable (PSP) video game.
Blokus Portable Steambot Championship has some wonderful bright colors that really work well with this kind of a portable video game. The different block shapes look good, and had me contemplating my moves quite often. The majority of the background images are neat. There is an image here or there that are sexually suggestive. That mainly has to do with the Steambot Championship anime content. The good news is those images are faded, and once blocks are played they are not as prominent.
Blokus Portable Steambot Championship has some really cool little music going on in it. I liked the special effects audio bytes as well. The different characters being played say the same thing (in text not audio), and that can get repetitive. I would usually be hitting the button past their comments so I could get back to my turn.
A game of Blokus Portable Steambot Championship can be played in around five minutes on the early areas, but it can take a lot of hours to master this game. In fact I am still learning strategies. Smart players will watch the computer to learn some of these play mechanics. Multiple players can play Blokus Portable Steambot Championship via the Ad-Hoc connection. Plenty of boards, and character adaptability are also available.
As my review has mentioned there is plenty of strategy found within Blokus Portable Steambot Championship. The gameplay is pretty simple and straight forward. Block must be placed caddy corner to another block and not touch a side of the same color. The game is very helpful in regards to what blocks can be played, and where they can go on the board. I had fun with Blokus Portable Steambot Championship even though it schooled me on more than one occasion.
Players have to pay an entrance fee for each computer controlled game, and then win so much money if they place first or second. I really like the idea of a board game coming to the PSP, and hope to see more board games coming to this hand held system soon.
- Paul
Graphics: 83%
Sound: 88%
Replay/Extras: 90%
Gameplay: 94%
Family Friendly Factor: 87%
System: Playstation Portable
Publisher: Majesco Entertainment
ESRB Rating: 'E' for Everyone
{Comic Mischief, Mild Suggestive Themes}

Want more info on this product,
or the company that made this product?
Set web browser to:
Link

Got a question, comment,
or a concern regarding this
review?
Email them to:
pbury@familyfriendlygaming.com