Avatar the Last Airbender The Burning Earth
SCORE: 70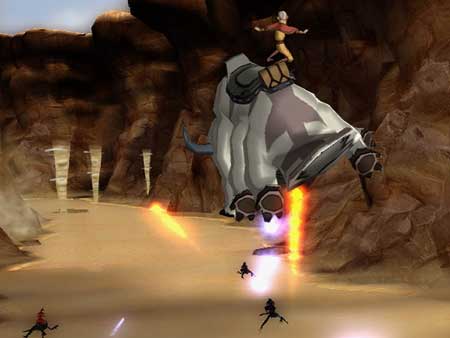 Avatar the Last Airbender is a fascinating television series with a lot of martial arts, and eastern mysticism in it. Thankfully The Burning Earth does not include much of that mysticism, and is a fun video game for those ten years old and older. It is up to the parents to decide if the content described in this video game is age appropriate or an older age is decided. Aang has mastered his water bending training and must now find an earth bender master to train him. Most of the normal characters are back in this Xbox 360 video game, from the original Xbox video game.
The cel shading is used heavily in Avatar The Last Airbender The Burning Earth. People either seem to love it or hate it. I am growing weary of the cel shading, and prefer regular / normal animation. There is violence as the ESRB describes as enemies must be done away with. The boss battles are the only ones that are any challenge. The Avatar form of Aang almost looks possessed. There are better looking Xbox 360 video games.
THQ made sure the voice acting in Avatar The Last Airbender The Burning Earth is at the level of the cartoon series. There are rather intense moments as evil characters want to stop the Avatar. There is also some humor to be found in this Xbox 360 game.
One major difference between the Wii, and Xbox 360 versions is the achievements. For those who like to work on achievements, then this game includes a few. There are some secrets, but Avatar The Last Airbender The Burning Earth is lacking in this department. If you are into the Avatar cartoon, then this is one video game to consider purchasing.
This is the first time in my memory that I liked the control scheme on the Xbox 360 over the Nintendo Wii. Avatar The Last Airbender The Burning Earth controls better on the Xbox 360, and you can take that to the bank. The levels are almost identical between the two versions. If I had to pick one, it would be the Xbox 360.
I had some high hopes for Avatar The Last Airbender The Burning Earth on the Xbox 360. Unfortunately not all of those hopes were met in what we call reality. The eastern mysticism is toned down, but so is everything else. I miss the puzzles, countless side quests, and large expansive 3D areas to explore. This is a decent game for fans of the Avatar only.
- Paul
Graphics: 65%
Sound: 75%
Replay/Extras: 66%
Gameplay: 75%
Family Friendly Factor: 67%
System: Xbox 360
Publisher: THQ
ESRB Rating: 'E10+' for Everyone 10+
{Violence}

Want more info on this product,
or the company that made this product?
Set web browser to:
Link

Got a question, comment,
or a concern regarding this
review?
Email them to:
pbury@familyfriendlygaming.com