Are you Smarter than a 5th Grader
SCORE: 90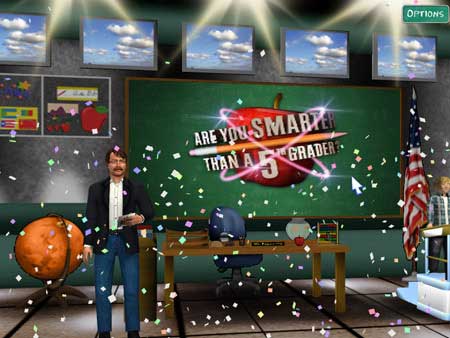 THQ is one of the few major third party developers that comprehends the video game interests of families. Are you Smarter than a 5th Grader? on the Personal Computer (PC) is based on the Fox television show of the same name. Jeff Foxworthy (editor: of You Might Be A Redneck fame) hosts the television show, and this game. Players get a fifth grader to assist them in answering trivia questions that students in the first to the fifth grade may get. How useful some of that information has been to you since all those years of schooling really stands out. Jeff Foxworthy includes his unique brand of humor in the form of sound bytes.
There is a nice blend of graphics in Are you Smarter than a 5th Grader? The details of the characters is around average. This means a couple of things; first off the most powerful video card is not needed, and more memory was freed up for the trivia questions. More on those later. The animation is pretty light, as there is no mouth movement while characters talk. I did not find any offensive images while playing this game.
The intro song to this game show really is stuck in my head. I know I am smarter than a 5th grader, even if I do not have as much worthless knowledge still in my head. The sound bytes can be humorous at times, and a little salt in the wound at others. The 5th graders are very encouraging and helpful throughout the game.
With twenty-eight subjects, and over three thousand challenging questions there is a ton of replay value found in this game. Players can keep a nice little digital collection of their winnings from the game. Are you Smarter than a 5th Grader? is a very reasonably priced video game that I feel is worth your hard earned dollars.
The controls work quite well, and many of the questions show some intelligence. The one thing to keep in mind is the million dollar question must be typed in. That means spelling has to be perfect. I learned this when I misspelled the word amendment. Please learn from my mistake, and be very careful. This PC video game allows you all the time in the world to answer the question. I found this game to be fun.
I really enjoy video games like Are you Smarter than a 5th Grader? that teach a plethora of topics. There are some religious questions about non-Christian religions, and no Christian based questions. This is not the developers fault, but denotes one of the hypocrisies of the public school system in America today. A practice mode would be nice in a sequel.
- Paul
Graphics: 85%
Sound: 90%
Replay/Extras: 94%
Gameplay: 89%
Family Friendly Factor: 92%
System: Personal Computer
Publisher: THQ
ESRB Rating: 'E' for Everyone

Want more info on this product,
or the company that made this product?
Set web browser to:
Link

Got a question, comment,
or a concern regarding this
review?
Email them to:
pbury@familyfriendlygaming.com