American Girl Julie Saves the Eagles
SCORE: 77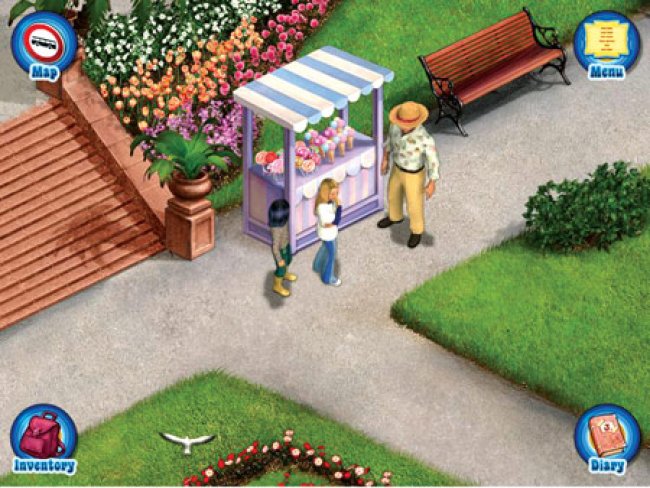 I knew that American Girl was a line of dolls, but I was unaware of just how large the franchise has become. American Girl Julie Saves the Eagles is set in the 1970s (editor: an era most of us would like to forget), and has a strong political message from the left side of the aisle. This is geared towards the younger girls of eight years old and up on the Personal Computer. Julie starts a quest, collecting money around Earth Day to save some eagles because for some reason the taxing and spending government of San Francisco spent those millions of tax dollars they amassed. Maybe they spent the money on hideous looking art that somehow improves my quality of life, like has happened in Seattle on more than on occasion.
There are plenty of vibrant colors found inside this PC video game. Thankfully the details will not tax your machine as long as you have a 32MB graphics card. There are a few locations to explore, but the game is rather short, and linear.
The dialogue is interesting, even though this game screams political correctness. There is a lot of preaching in this game about the environment, animals, and humans being to blame. I know a lot of our readers will be bothered by this, so I had to mention it.
Julie Saves the Eagles has a couple of mini games, but aside from that there is not a lot of replay. The mini games are pretty easy, which is good for the age, but may not keep their attention too long. The story is pretty linear, even if some of the directions are a bit vague from time to time.
The biggest problem I found with American Girl Julie Saves the Eagles is the controls. Click where you want Julie to walk to, as long as there is not an obstacle in her way. Julie can not figure out how to walk around an object. I found myself waiting, or having to click multiple times to walk Julie around an object. Many times it looked to me she could clear the object easily, but she would stop until I had her move far enough away from the edge of an item.
I don't mean to be cruel, but it feels like this PC video game was written by a hippie who did not have all the facts when it came to environmental issues. The content is safe for girls, but it has a very one sided spin that many would consider propaganda. Your call on this one, but my neice will definitely be passing.
- Yolanda
Graphics: 84%
Sound: 77%
Replay/Extras: 76%
Gameplay: 71%
Family Friendly Factor: 78%
System: Personal Computer
Publisher: THQ
ESRB Rating: 'E' for Everyone

Want more info on this product,
or the company that made this product?
Set web browser to:
Link

Got a question, comment,
or a concern regarding this
review?
Email them to:
craftiemom@familyfriendlygaming.com