Marble Blast Gold
SCORE: 88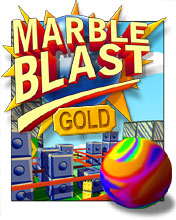 Marble Madness (from 1984) has been one of my all time favorite classic video games. There was just something about rolling a marble around a level carefully, and getting to that goal in time. Fast forward almost twenty years, and Marble Blast Gold was released (in the year of our Lord 2003). It is important to note this game is not a true sequel. Garage games creates a game engine for inspiring independent developers, and also sells the finished product. Marble Blast Gold is one such product, and may be one of the best of the bunch. Rolling around levels stays true to the original concept, and a whole plethora of cool skills were added. Among these skills is a helicopter upgrade (allows the marble to fly for short periods), a speed boost, shock absorber, super jump, super bounce, etc. All of these add wonderful new dimensions to the original concept. One of the really cool things about this game, is it has been designed for Windows (PC), MAC, and Linux. This inclusiveness of all major computer operating systems is nice to see.

The graphics are very bright and colorful. The detail of the marble looks great. It reminds this reviewer of a marble he had as a child. Some of the graphics are re-used in certain levels, and at times looks painted on. This game is a few years old, so we took that into account when grading the graphics. They are very adequate, but nothing spectacular.

The sounds are exceptionally well done. The music is pleasant, and the sound effects work very well. The sounds are crisp, and clear, and the sounds are cheerful. The announcers voice conveys the urgency in most levels. There is always a timer that is there to remind you, that completing after the time limit is still a failed attempt.

There are not a lot of extras in this game. There are additional levels that can be downloaded from the garage game website. The game is separated into four difficulty levels. Each of these different levels (Beginner, Intermediate, Advanced, and Custom). There is a timer kept on each level. The main replay is to beat the best time in that level. Since the game can be purchased from their website for $19.95 this reviewer feels like the purchasers gets their money's worth.

The gameplay in Marble Blast Gold has a wonderful learning curve. The later levels can be seriously difficult to complete, especially with that timer (there is a time item that stops the clock for a short time). The controls are quick, responsive, and set up pretty good. The level designs are set up extremely well, the thought put into the level design shows. This game is also one this reviewer found fun to play. There is a certain addictive nature to this kind of game.

How friendly is this game to the entire family? This game is one that could be recommended to a pastor, is safe for the entire family, and a sequel to it is a really good idea (hopefully we will not have to wait another two decades). There is nothing offensive in this game that we found at all. The only concern this reviewer has is how addictive this game can become. Coming so close, and failing - leads the player to try again from the beginning of the level.

There really should be more video games like this one. The player's marble may roll over a mine but is only launched into the air. Falling off the edge leads to an out of bounds. It was a pleasure to review a nice game like this. With some more polish this style of game could become highly successful. Ready... Set... Go!
- Paul
Graphics: 84%
Sound: 90%
Replay/Extras: 84%
Gameplay: 96%
Family Friendly Factor: 88%
System: PC/MAC/Linux
Publisher: Garage Games
ESRB Rating: 'NR' for Not Rated

Want more info on this product,
or the company that made this product?
Set web browser to:
Link

Got a question, comment,
or a concern regarding this
review?
Email them to:
pbury@familyfriendlygaming.com