Hermie & Friends Camping the Bug-a-boo way
SCORE: 96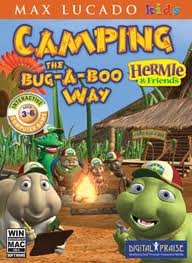 Digital Praise is well on their way to becoming a legend in the family friendly video game category. They have consistently released high quality video games that are safe for the entire family. Their recent Hermie & Friends series has been stellar for the 3 to 6 age group. The recent release of Hermie & Friends: Camping the Bug-a-boo way is sure to be a hit. This game has a direct tie in with the exceptionally popular Max Lucado DVD Hermie and Friends: Stanley the Stinkbug goes to camp. In many ways the Personal Computer/Macintosh game teaches more than the DVD does. A video game can take the time to include lessons in counting, and reading where it would hurt the flow of a television show. The lessons do not end there in this game, for sorting, problem solving, nature facts, similarities, and differences are also included. Digital Praise also included themes of friendship, tolerance, perseverance, and praise. After the player has built the canoe, then some friendly competition is encouraged with the fire ants over at Camp Hot Foot.

Graphically Camping the Bug-a-boo way shows some improvements over previous Digital Praise Hermie & Friends video games. There are some additional animations that are very welcome indeed. The all new mini games are the most solid grouping found in any game that Digital Praise has previously released. All of the characters are easily recognizable, and children will squel in delight to see their favorites in this game.

The sounds, and music in Camping the Bug-a-boo way are very crisp and clear. The sounds, and music all work amazingly well in this game. The music is cheerful, and quite pleasing to all ages. There are also sounds that encourage a relationship with God, and the teachings in the Holy Bible. The only complaint in this department is the voice actor used for Wormie. It is a different person than used in the television show. In this game it is less noticeable than in previous games, so that area has improved dramatically.

This batch of mini games in Camping the Bug-a-boo way have amazing replay value. We tried this game on a child in the appropriate age bracket, and he totally loved it. In fact we had to tell him it was time to quit. Multiple saves are allowed so more than one person at a time can play this game. This game is certainly worth the money in this humble reviewers opinion.

One of the most creative mini games in Camping the Bug-a-boo way is the Lucy's Campfire Stories. This is an easy game for the youngest of players, and one of the most pleasurable. The controls are very responsive, and the design works well. This is a game that is seriously fun to play for people of all ages. The younger gamers will appreciate this game more though, but it is geared towards them.

Hermie & Friends: Camping the Bug-a-boo way is one of the most family friendly video games this reviewer has played all year long. This is also one of the best games for kids. It goes without saying that this game is safe for the entire family. Family values, and a Christian world view are taught within Camping the Bug-a-boo way. It was my pleasure to play, and review this game. I am expecting even greater improvements from Digital Praise in their next Hermie & Friends video game release.
- Paul
Graphics: 99%
Sound: 90%
Replay/Extras: 97%
Gameplay: 97%
Family Friendly Factor: 98%
System: PC/MAC
Publisher: Digital Praise
ESRB Rating: 'NR' for Not Rated

Want more info on this product,
or the company that made this product?
Set web browser to:
Link

Got a question, comment,
or a concern regarding this
review?
Email them to:
pbury@familyfriendlygaming.com