Electroplankton
SCORE: 97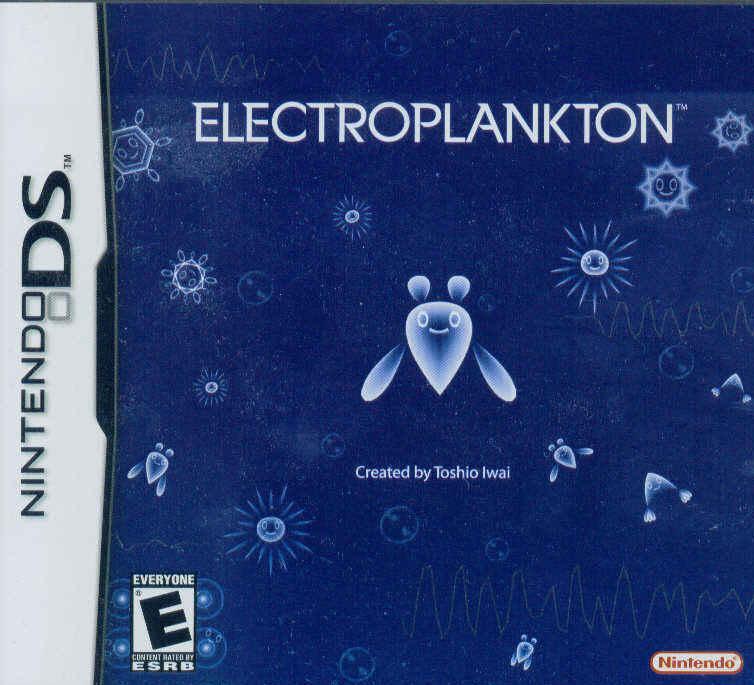 There are innovative games, and there are innovative games. Electroplankton is quite the innovative game from Nintendo, on the Nintendo DS. Let us be frank here, the Nintendo DS has been one of the most innovative machines, and has the most innovative games on it. Toshio Iwai is the genuis behind this game. Calling this a game however does not comletely explain what this cartridge houses. There are ten different electroplankton. Each one has a different little area (aka screen). Each of these electroplankton moves around differently as well. These different moves can produce a multitude of different sounds. Some of these sounds include recording the voice of the player, and playing it back in a lot of different ways. In certain regards it is difficult to classify this game.

The graphics in this game are spectacular, especially the water effects. The graphics are bright, and colorful. The details are nice, and the artwork is a nice blending of different styles. This game is filled with wholesome images, and they are used properly. This is a music game, that the graphics shine in as well. At times this reviewer not only enjoyed the music he had made, but also marveled at the associated visuals.

A music game really fails or succeeds based on how it sounds. The sounds are crisp, and clear. They also work amazingly well in this game. Parts of the game feel techno, whilest other parts felt more classical. Both of these parts are very musically educational. That is something about this game that a lot of people will realize right off the bat - this is a great game to assist in teaching music to anyone interested. There are absolutely no offensive sounds in this game.

This is a game that this reviewer feels everyone gets their money worth. This can be played for a few minutes, or for hours at a time. There are so many variations on the musical sounds, that every time it is played it can virtually be different. This game is fun for people of all ages, and more than one person can play it as well (via taking turns). There is nothing to unlock, but all the different musical sounds to unearth give this game a really high replay value. The only real problem this reviewer found was the game does not allow the player to save any musical sounds created.

This game plays superb. The controls are quick, and responsive. The design scheme works perfectly, and the touching of the screen is the perfect interface. This game is a ton of fun to play. Nintendo does a really good job of creating new, and exciting game play - this game is no exception.

This is a game that has nothing this reviewer could find offensive at all. It is a blast to play, and it has some great teachings in it. The learning of music is a honorable pursuit. This game is safe for the entire family, and is a game that this reviewer would recommend to his pastor. This game was a joy to play and review. A sequel would be a great idea, and the one thing that needs to be added is the ability to save ones own musical compositions.

It is nice to see Nintendo continuing to create fun, family friendly games, that bring something new to the video game industry. This reviewer believes Nintendo should keep up the good work of developing games like this one. - Working Man Gamer
Graphics: 95%
Sound: 96%
Replay/Extras: 98%
Gameplay: 99%
Family Friendly Factor: 99%
System: Nintendo DS
Publisher: Nintendo
ESRB Rating: 'E' for Everyone

Want more info on this product,
or the company that made this product?
Set web browser to:
Link

Got a question, comment,
or a concern regarding this
review?
Email them to:
GameReviews@familyfriendlygaming.com