Dance Praise
SCORE: 93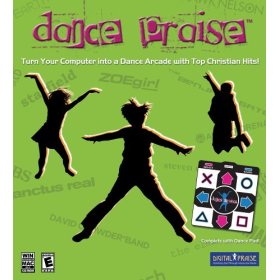 Dance Praise takes advantage of the fact that people love dancing. There are all kinds of different dances in all kinds of different cultures. Digital Praise took a huge compilation of really cool Christian contemporary songs, and let the gamer dance to them. There is no hiding it, this is similar to the 'Dance Dance' games from Konami with one huge difference - the music. The music in Dance Praise is something that we have clamored for at Family Friendly Gaming for quite awhile now. Arrows scroll down the screen (from top to bottom), and when they hit arrow boxes on the bottom of the screen, the player needs to step in the direction of the arrow. Extremely simple in concept, and it really gets the heart pumping.

The graphics in Dance Praise are pleasant. The dancers are dressed appropriately, and the graphics are very bright and colorful. The details are decently done. Lyrics from the songs scroll on the screen as well (option that can be turned off), which is nice to read God being praised. Wholesome images are also used properly in Dance Praise.

Do sounds get any better than this? Certainly not to this reviewer. There are plenty of really, really cool Christian songs in this. Toby Mac, Newsboys, Zoe Girl, and John Reuben to name just a few of the mega star musicians who can be found in this game. I am totally into Christian music, so I brought in a few people who are not into that kind of music, and they liked it as well.

There are plenty of modes, and difficulty settings to keep most gamers busy for months with Dance Praise. Digital Praise also included an exercise section that is great for those who want to do some aerobics at home. Two dance pads can be hooked up, and players can compete (or cooperate). This is a game that is most definitely worth the money in this reviewers humble opinion. This kind of active gaming is what video games are all about.

There is one warning about the gameplay - expect to be sweaty after playing a few songs. Dance Praise is a lot of fun to play. The only issue we have with the game is the sensitivity with the dance pad. I know I have big feet, but other dance pads did not have the same issues. There were times my normal toe tapping would not work. There were other times (on menu screens) that just standing there was triggering the up or down.

Video games like Dance Praise encourage family time, and can bring people together for some good, quality, and safe fun. This game is safe for the entire family (although young children may not be fast enough to play). This game was a joy to play, and review. This is the kind of game that I would recommend to churches to have for youth gatherings. There are good teachings in this game. Not only do I want some sequels to this game, we know they are on the way. Dance Praise is just shy of our seal of approval, and the problems we had with the dance pad are the reason. There needs to be a little larger model for adults of the dance pad. A small side note is the length of the cord for the dance pad to the USB port is insanely long.
- Paul
Graphics: 95%
Sound: 100%
Replay/Extras: 100%
Gameplay: 71%
Family Friendly Factor: 100%
System: PC/MAC
Publisher: Digital Praise
ESRB Rating: 'E' for Everyone

Want more info on this product,
or the company that made this product?
Set web browser to:
Link

Got a question, comment,
or a concern regarding this
review?
Email them to:
pbury@familyfriendlygaming.com