Sherry Lynn A Beautiful Life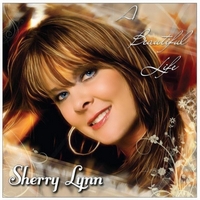 Family Friendly Gaming was provided a CD of Sherry Lynn A Beautiful Life. This is Sherry Lynn's sophmore CD. She has a definite strong female voice. Which is neat to see with all the news stories on how men are dominating the country charts in this day and age. Sherry Lynn A Beautiful Life contains a worldly outlook on life in multiple songs. The songs on this CD are I Like 'Em Like That, Girls Will Be Girls, Slip Into Something Mexico, What a Day to Shake a Heartache, You in a Song, So Much More, What Are You Running From, Fallin' In Love, I Could Get Used To This, and Beautiful Life (with Crystal Gayle).
Lessons in Sherry Lynn A Beautiful Life are the kind of man she likes, girls living for themselves, girls doing slutty things, being left alone, rejecting men, doing what you want to do (aka being selfish), getting over a heartache, how songs remind you of certain people, aspects of country living, leaving a small town to see the world, not letting people in, love can heal heart wounds, falling in love, enjoys getting her way, likes being the center of attention, and things to cherish in life.
My favorite song on this CD is I Like 'Em Like That. This CD promotes drinking, partying, and living for yourself. What Are You Running From has a rockish sound to it. Most of the songs on Sherry Lynn A Beautiful Life are very upbeat. In fact she is one of the fastest country singers I can think of in the modern era. Sherry Lynn has a beautiful, strong voice. I hope future CDs include some family friendly themes.
{03/17/2014} - Yolanda
Want more info on this product, the company that made this product?
Set web browser to:
Link

Got a question, comment, or a concern regarding this preview?
Email them to:
SoundOff@familyfriendlygaming.com