Bill Emerson & Sweet Dixie Dancin' Annie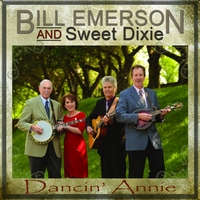 Bill Emerson & Sweet Dixie Dancin' Annie is a bluegrass CD that has sung its way into Family Friendly Gaming Nation. Banjo comes across loud, proud, and strong on this CD. The songs on this disc are Dancin' Annie, The Only Wind That Blows, Days When You Were Mine, State Line Ride, Will A Light Be Shining Bright, A Face From Another Place, Two Hands On The Wheel, Thank Him For The Miracle, Walkin' After Midnight, Whistle Stop, This Heart You Have Broken, and He Knows My Name. Bluegrass fans will take great interest in this generally upbeat music CD.
Lessons on this CD are living in the city, living in the country, the only wind that blows comes from the north, missing a lost loved one, regret, turn back time and change mistakes from the past, being ready for the return of Jesus Christ, let Jesus into your heart, coming face to face with a past love, keep both hands on the wheel, being a safe driver, being thankful, how wonderful a relationship with God is, being in the light, miracle of becoming saved, looking for a loved one, walking under the moonlight, the pain of a broken heart, God knows your name, and saves us from our sins.
The mixture of male and female voices is nice. Some of the songs on Bill Emerson & Sweet Dixie Dancin' Annie are upbeat, and others are a slower tempo. The instrumental State Line Ride exhibits some finger talent. Although I am not clear what that piece has to do with the state line. Or which state line are we hearing about? The same goes for the instrumental Whistle Stop. What does that have to do with a whistle stop? I appreciate the songs on faith and family on the Bill Emerson & Sweet Dixie Dancin' Annie CD. I really like A Face From Another Place because it is so fast. He Knows My Name is another favorite of mine on this CD.
{03/02/2014} - Yolanda
Want more info on this product, the company that made this product?
Set web browser to:
Link

Got a question, comment, or a concern regarding this preview?
Email them to:
SoundOff@familyfriendlygaming.com