Shelter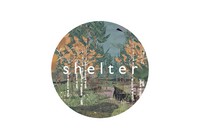 I am so thankful that Family Friendly Gaming was provided a preview build of Shelter on the Personal Computer (PC). This game takes a completely different approach. New and different things are tried. Some gamers will appreciate this, and others will not. As I played Shelter others here at FFG gathered around me. The most common comment was how ugly the graphics are. This was by design. The same goes for the minimalist music.
Players take on the role of a mother badger in Shelter. They are in the den with cubs. One of them looks lifeless. The first thing I had to do was figure out what to do. Trying to walk out was not an option. The game would not let me, and the mother would turn around at the same point in the tunnel. After ten minutes of trying I finally figured out to get a beet (at least that is what it looked like to me), and take it back to the lifeless cub. It ate, and started following me around. Just like the other cubs already were doing.
The controls can be touchy and difficult to use in Shelter. I hope they get tied down better in the final production release. You can get stuck near rivers thanks to the slope. You are not allowed to go into certain places - no explanation is given. At the core of this game though is exploration, and keeping your young alive. I cherish these things, and appreciate Might and Delight doing something different. I am constantly thinking about different ideas for games, so it resonates with me.
{07/28/2013} - Paul
Want more info on this product, the company that made this product?
Set web browser to:
Link

Got a question, comment, or a concern regarding this preview?
Email them to:
SoundOff@familyfriendlygaming.com