News
Warner Bros Interactive E3 for Families
Los Angeles, CA (June 4, in the year of our Lord 2009) - Family Friendly Gaming is live in Los Angeles at the Electronic Entertainment Expo (E3). This event is the SuperBowl for the video game industry. Plenty of impressive video games were played, and Warner Bros Interactive had a nice array of family friendly video games this year.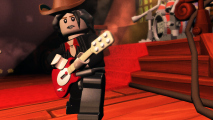 LEGO® Rock Band merges two of the most popular videogame franchises to deliver a unique family-friendly music experience that will take tweens, teens, families and gamers of all ages on a wild journey to rock stardom in order to "Build a Band and Rock the Universe." Combining the authentic multiplayer music experience of Rock Band with the accessibility, customization and humor of LEGO games, LEGO Rock Band allows players to create their own unique rock star style and customize their own avatars, band members, roadies, and managers. As players successfully complete songs and rock challenges, they can collect LEGO studs, unlock additional content and build amazing vehicles, which can take their band from local gigs at rock clubs to epic stadium shows and even fantasy settings on Earth and beyond.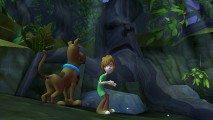 In Scooby-Doo! First Frights, the complement to the upcoming live-action and CGI Warner Bros. DVD release Scooby Doo: The Mystery Begins, players take on the role of young Scooby-Doo and teenage versions of the newly formed Mystery, Inc. crew to solve their very first cases. Scooby-Doo! First Frights is intended for Scooby-Doo fans of all ages. Fans will be able to explore spooky environments as Scooby, Shaggy or any of the super-cool teen Mystery, Inc. team. The action-adventure game features co-op play allowing two members of Mystery, Inc. to work together to solve puzzles, combat enemies, and collect clues before unmasking each episode's mysterious villain - all while gaining prestige as world famous sleuths!

Scribblenauts is a completely original gameplay experience that anyone can play, offering fun for all ages with two styles of gameplay and more than 200 levels. In Scribblenauts, players use the Nintendo DS™ touch-screen to help their character Maxwell acquire the Starite in each level by solving a series of puzzles armed with their stylus, notepad and imagination. Players jot down the word for any object that comes to mind in order to reach the goal. Every object behaves as it would in the real world, and players can combine countless objects to create completely new scenarios. Every level has more than one written object to use as a solution, opening up the game to endless replay.

In The Clique: Diss and Make Up, based on the best-selling young adult book series by author Lisi Harrison, players assume the role of the new girl at school, taking on the challenges of climbing the social ladder to join the ultimate clique, the Pretty Committee. The Clique: Diss and Make Up is an empowering game of social maneuvering where the player attempts to survive in one of the most harsh and unforgiving environments on Earth – Octavian Country Day School (OCD). Player will use gossip, fashion and wit to make friends, join cliques, attend classes, and even work after school "jobbies" with a variety of exciting mini-games. Play a variety of exciting mini-games to earn cash or increase your cool.