News
Target announces Video Game Reservation Program
Minneapolis, MN April 16, in the year of our Lord 2009 - Target announced today a new reservation program that offers guests a chance to reserve the biggest and most popular video game titles. Beginning April 19, Target guests can purchase a collectible reservation card, only in stores, for $1. When they bring the reservation card back within seven days of release to purchase their game, they will receive a $5 Target GiftCard to put toward a future purchase.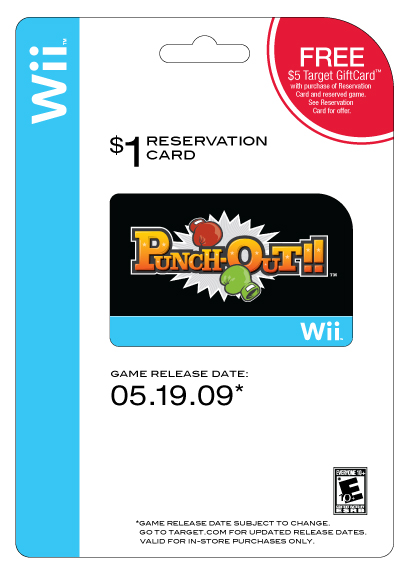 "We've created a reservation guarantee that ensures guests will get their hands on popular games the day they are released, and a $5 GiftCard upon purchase adds even more value," said Mark Schindele, senior vice president, Target. "We are constantly striving to make sure our guests find everything they need to work, live and play all in one convenient and simplified shopping experience."

The program will kick-off with titles such as Punch Out!! from Nintendo, EA Sports Active from Electronic Arts, Ghostbusters from Atari, Indiana Jones and the Staff of Kings from LucasArts, and UFC 2009 Undisputed from THQ.