News
Nyko E3 for Families
Los Angeles, CA (June 11, in the year of our Lord 2009) - Family Friendly Gaming is live in Los Angeles at the Electronic Entertainment Expo (E3). This event is the SuperBowl for the video game industry. Plenty of impressive video games were played, and Nyko had some fascinating products to show off.
Zoom Case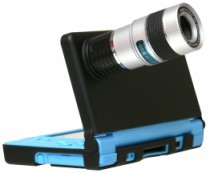 The biggest complaint Family Friendly Gaming has heard concerning the Nintendo DSi is the lack of a zoom feature for the cameras. Nyko takes care of that with the Zoom Case. This add on to the Nintendo DSi is partially a protective case, and partially a zoom lens. The zoo lens easily screws on, and has its only protective case for when it is not being used. Family Friendly Gaming got to see a proto-type of this unit (behind closed doors), and was very impressed with the zoom feature. You will not want to keep it on the Nintendo DSi after usage because of the size of the lens. The protective case can stay on, and will increase the life span of the hand held machine. An official release date was not provided at the show.
Type Pad Pro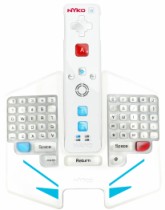 Have you ever wanted to type quickly on the Wii without having to use a keyboard, or the on screen keyboard? The Type Pad Pro from Nyko takes care of that wish. Family Friendly Gaming tried this little unit behind closed doors at E3. The editor in chief easily typed a message on the Wii (a memo) thanks to this little unit. It feels really good in the gamers hand as well, and the triggers are mapped to the 'A' and 'B' buttons on the Wii Remote. The Type Pad Pro is easy to use, and very intuitive. An official release date was not provided at the show.