News
Majesco Announces Go Play brand
Go Play Lumberjacks
Go Play Lumberjacks pits a cast of wacky lumberjacks in four-player competition as they climb, chop, saw and logroll their way to victory! Use your Wii Remote as the all-in-one timber-cutting contest tool. Saw dust will fly from your chainsaw in the Hot Saw; test your balance on the waterlogged Log Roll, ascend towering tree trunks in the Pole Climb and much more!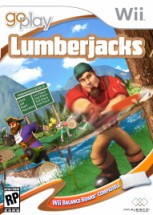 Features
Four-player party competition from the great outdoors!

Five event categories with featuring over 15 individual events:

Sawing: Solo Cross, Hot Saw & more

Axe Throwing: First to 1000, Time Limit & more

Climbing: Pole Climb, Tree Top

Chopping: Underhand, Springboard & more

Water Events: Log Roll, Boom Run

15 eclectic characters to chose from, each with unique animations and tools:

Jack, the err, giant lumberjack

Jill, the chainsaw-toting beauty

Nozawa, the ninja assassin

Bart, the peg legged pirate

Lance, the lumbering medieval knight

Axl, the 80's rocker

Unlock use of your own Mii!

Wii Balance Board support

Earn trophies unlockable pieces of gear (saws, axes, and more)

Up to four live players can play at a time (AI will fill in remaining spots in one, two or three individual player matches)
Go Play Circus Star
The circus is in town, and you're the star! Go Play Circus Star lets you step into the shoes of a circus performer whose job is to wow the crowd with death defying stunts, animal tricks and sleight of hand. As part of Majesco's new Go Play line, Circus Star delivers a motion-based experience that the entire family can enjoy together!
Features
Master 15 authentic mini games that offer unique controls and performance opportunities: Human Cannonball, Big Cat Taming, Juggling Excitement, Starry Magic, Trampoline Acrobatics, Tightrope Walking, Rola Bola, The Amazing Silks, Knife Throwing, Pie Dodging, Elephant Balancing, Pony Dancing, Mile-High Stunt Diver, Unicycle Rider and Trapeze

Unlock four different venues from the Park to the Big Top to the Arena and Las Vegas Stadium. Each venue is a different difficulty level.

Compete against up to 3 other players to determine who is the biggest star.

Wii Balance Board compatible with a majority of events.

Fill up your trick meter to pull off a series of more daring and death defying feats. The more impressive the trick, the more fans you will gain and the more money you earn.

Use earnings to unlock additional events and progress in your circus career.

Interactive crowd system responds to the quality of your performance. Big stars will get them roaring whereas novice performers can expect tomatoes in the face.

Animal events let you control the action while increasing the danger.

Choose from 6 unique stars, each with 5 fabulous costumes.

Earn encouragement from The Ringmaster who guides you through your career.