Family Friendly Gaming Hall of Fame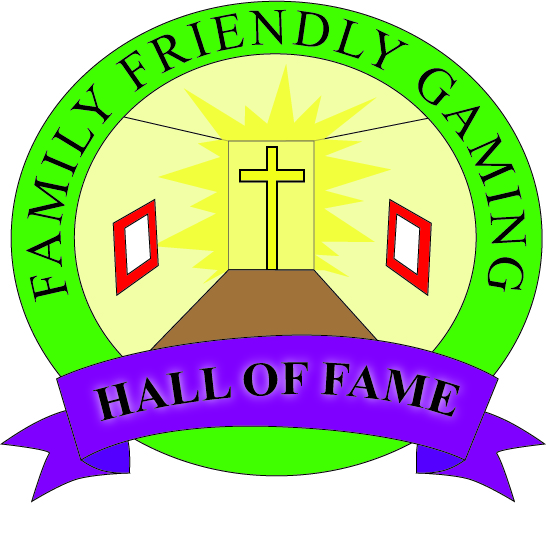 Since 1998 those of involved with Family Friendly Gaming have been promoting good games for families. We have been involved in the industry for decades. We are constantly honoring good games for families. The Holy Bible has been the set in stone standards we have applied to the definitions we use. Covering these games in a wide variety of forms has been the order of the day for these games. We wanted to do something additional, and special for some of the best of the best. Yes we have a rarely given seal of approval.

What about something else though? Some companies and some franchises deserve a lifetime achievement award. Which is usually given when that lifetime is over with. In video games a franchise can come back. Companies can come back. So after much prayer, fasting, and earnestly seeking God's will we have an exciting announcement. Welcome to the Family Friendly Gaming Hall of Fame. In the year of our Lord 2013 we have the inaugural inductees. Each inductee will be sent a plaque to commemorate their status of as a Family Friendly Gaming Hall of Famer.

Cooking Mama - Majesco Entertainment

Mama has cooked, done crafts, babysat, gone camping and more. The Cooking Mama franchise has been amazing for families. Majesco Entertainment was one of the first companies to really embrace the idea that girls and women want a different kind of game. They also want a role model to look up to. A role model that acts like a woman. Cooking Mama is loving, caring, nurturing, helpful, and kind. She encouraging and never treats anyone bad. This is probably why this franchise has been blessed with so many sequels, and financial successes. Cooking Mama is a breath of fresh air that has never gotten stale. Families continue to embrace Mama and the Cooking Mama franchise. Congratulations to this franchise for being one of the first inductees into the Family Friendly Gaming Hall of Fame.

Cars games (THQ)

This includes Cars, Cars Mater-National Championship, Cars Race O Rama. On systems like Gamecube, Playstation 2, Xbox, Wii, Playstation 3, Xbox 360, Nintendo DS, Nintendo 3DS, Playstation Portable, Playstation Vita and more. Movie based games have a bad name. Yet this movie based game spawned sequels. THQ crossed the finish line first with their Disney-Pixar Cars based video games. These Cars games allowed families the ability to take on the role of Lightning McQueen and find out what happened after the first movie. In fact the story progression in this open sandbox world is one of its key components. Families embraced these Cars games over a wide variety of systems and years. Congratulations to the THQ Cars games for being one of the first inductees into the Family Friendly Gaming Hall of Fame.

Interactive Parables - Graceworks Interactive

There is one giant in the Christian video game industry – Graceworks Interactive. Their Interactive Parables games have shown the entire world that a non-violent first person shooter can be created. Not only that, but it can be used to educate anyone with an open mind. Interactive Parables was so well received that Graceworks Interactive created multiple sequels on a variety of different books of the Holy Bible. Intelligent Christians immediately embraced this franchise with all of the love and support Christ called them to. This Personal Computer (PC) game shows even those with few talents can create a masterpiece. Congratulations to the Interactive Parables franchise games for being one of the first inductees into the Family Friendly Gaming Hall of Fame.