The Smurfs
SCORE: 68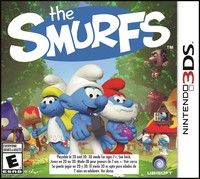 Recently Family Friendly Gaming rented a copy of The Smurfs on the Nintendo 3DS. I was so excited to see this game since I really like the blue characters. Especially Smurfette. I was extremely disappointed to find out the story mode in The Smurfs took around an hour to beat. Ubisoft is trying to sell this game for thirty dollars. The Smurfs on the Nintendo 3DS is worth five to ten dollars in my professional opinion.
Graphically The Smurfs looks really nice. I love how the Smurfs look, and how they talk. Which reminds me the fifteen different musical tracks in The Smurfs are cool. I enjoyed listening to them, and being able to change to them after they were unlocked. The talking scenes do not have much animation unfortunately. If you check the top screen in some of the mini games there are decent graphics. Others are not that great for a 3DS game.
The core of the game play in The Smurfs is mini games. In some ways The Smurfs feels like a village builder. We are fixing the damages done to the Smurfs village. That means playing mini games to collect resources and then using them to build in the village. This would have been great except for one minor problem. The mini games get harder after a few times of being played. Which means less resources and more times playing them.
Players are required to create magical potions in The Smurfs. They help the player in a variety of ways in the mini games. That reminds me the tutorials can be turned on and turned off at point before the mini game begins. I like this because at times I forgot how certain controls worked in the mini games. Especially after they were made more difficult and a new wrinkle was added in.
In a lot of ways The Smurfs on the Nintendo 3DS feels like an app. We repair and build the village. We find new Smurf characters, and build their houses for them. We collect resources and use them up. We rescue friends, and shrink a dragon. The Smurfs on the Nintendo 3DS can be beaten from a rental. Take my advice and avoid purchasing The Smurfs until it comes down to a reasonable price.
- Yolanda
Graphics: 70%
Sound: 80%
Replay: 50%
Gameplay: 70%
Family Friendly Factor: 70%

System: Nintendo 3DS
Publisher: Ubisoft
Developer: Magic Pockets
Rating: 'E' - Everyone SIX and OLDER ONLY

Want more info on this product, the company that made this product?
Set web browser to:
Link


Got a question, comment, or a concern regarding this review?
Email them to:
craftiemom@familyfriendlygaming.com