Family Friendly Gaming #70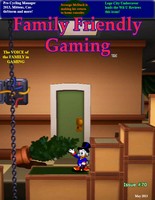 Family Friendly Gaming has launched the May in the year of our Lord 2013 issue of the Monthly Video Game, App, DVD, and Blu-ray magazine online. Plenty of Family Friendly video games are brought your way in this issue. A plethora of reviews, previews, columns, and other information to assist you in your video game, app, DVD, and Blu-ray purchases. Duck Tales Remastered graces the front cover. Plenty of exciting new games for families are found within the 89 pages of this powerful video game magazine that continues to grow. Family Friendly Gaming is the longest running video game magazine devoted to families. This magazine is still free for everyone to read at their leisure. So get to reading, and then email in your comments on the latest issue of Family Friendly Gaming.
Welcome
Welcome to the Family Friendly Gaming website. This website is for and about video games from a family friendly viewpoint. The Family Friendly Gaming website goes hand in hand with the Family Friendly Gaming magazine - which was the first ever Christian video game magazine. There are plenty of family friendly video games out there; we work very hard to find them for you, and to give them their much deserved time in the lime light. Not everything from the video game industry is bad, and we do our small part to exhibit that. We hope you enjoy what we do, as much as we enjoy doing it. This website is the original full fledged free video game site for families. Often imitated, but never duplicated. Family Friendly Gaming remains safe for the entire family, and thanks you for your continued support and trust. Together we have made a major impact on the video game industry. We are now walking together by covering DVD's, Blu-ray's, and Apps. We are so very thankful you stopped by to visit us. Expect the Holy Bible to be used to back up our opinions.
| | |
| --- | --- |
| | Bowling games come in all shapes and sizes. Some of them are more complex than others. Some feel like you dropped a 16 pound ball on your foot. Others feel like you are always in the groove. Bowling Bonanza 3D is a solid $5.99 downloadable title on the Nintendo 3DS. |
| | |
| --- | --- |
| How many of the Family Friendly Gaming Nation members remember Gummy Bears Magical Medallion on the Wii? It is now on the Nintendo 3DS. You know you liked it, you loved it, you wanted more of it. Who out there does not like Gummy Bears in 3D? And it is now portable so you can take it on the go. | |
Pound Puppies Mission Adoption
| | |
| --- | --- |
| | Pound Puppies Mission Adoption contains five episodes. The episodes are King of the Heap, Taboo, Snow Problem, Zipper the Zoomit Dog, and There's Something About Camelia. The main characters are in most of the episodes of Pound Puppies Mission Adoption. Puppies given to humans do not return. |
Donkey Kong Country Returns 3D
| | |
| --- | --- |
| I have never been big on the Donkey Kong Country games. In fact I have personally not touched them since they were on the SNES. Other members of Family Friendly Gaming Nation have played and reviewed them. When Donkey Kong Country Returns 3D arrived for the Nintendo 3DS I was super excited to play it though. | |
My Riding Stables 3D - Jumping for the Team
| | |
| --- | --- |
| | Girls and horses go together like carrots and rabbits. My Riding Stables 3D - Jumping for the Team is a wonderful downloadable horse game for the female side of the family. Boys can also enjoy this Nintendo 3DS game. My Riding Stables 3D - Jumping for the Team does target the females though. |
Mario and Donkey Kong Minis on the Move
| | |
| --- | --- |
| I started to play Mario and Donkey Kong Minis on the Move and instantly thought about games like PipeMania. You know the games with pipes that have water flowing through them? You place the pipes so the water can go from point A to point B. Do it fast enough to complete the level. This hand held game is in the same ball park. | |