Arrow Season Two
SCORE: 49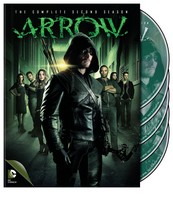 There are some things in Arrow Season Two I like, and some things I do not like. In many ways this show has gotten darker, and more deviant. Which is a shame because Arrow Season Two excludes the younger members of the family. As an adult I am not going to sit through this season ever again. I may not even purchase future seasons of this show.
Oliver Queen takes a turn for the better in deciding he is going to avoid killing the criminals. He does not always keep that promise though. He does go out of his way to create non-lethal arrows. Slade Wilson is finally shown as Deathstroke.
Arrow Season Two shows us what happened to Oliver on his second year on the island. He is not always on the island in case you were wondering. A super soldier serum is found on a Japanese sub which carries into the modern day storyline.
Plenty of death, destruction, murder, and deviation in Arrow Season Two. There are numerous gross, sick, and disgusting moments in Arrow Season Two. There are also some very awkward moments thanks to the wackos in the redefinitionists movement.
Numerous secrets are brought into the light in Arrow Season Two. I am amazed at how many people justify their evil deeds in Arrow Season Two. We get some interesting new characters in Arrow Season Two, and a few cool return characters. Relationships shift and change in this season. Too many of them feel too convenient to me.
Ultimately I am disappointed with Arrow Season Two. The obsession over Slade and Argus just bored me. The sexual deviant content was highly offensive. The only good part about Arrow Season Two is the Arrow tries to keep the criminals alive.
- Paul
Graphics: 40%
Sound: 50%
Replay/Extras: 65%
Gameplay: 50%
Family Friendly Factor: 40%

System: DVD
Publisher: Warner Bros
Developer: DC Comics
Rating: 'NR' - Not Rated

Want more info on this product, the company that made this product?
Set web browser to:
Link

Got a question, comment, or a concern regarding this review?
Email them to:
pbury@familyfriendlygaming.com