Madagascar 3 The Video Game & The Croods Prehistoric Party Combo Pack
SCORE: 81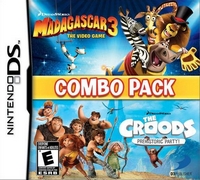 Madagascar 3 The Video Game & The Croods Prehistoric Party Combo Pack contains two movie based video games on the Nintendo 3DS for $29.95. Families can purchase the physical copy of the game, or purchase a download only version from the Nintendo 3DS. You should know which option we prefer at Family Friendly Gaming.

Family Friendly Gaming already reviewed The Croods Prehistoric Party on the Nintendo 3DS. It is a cool little party game for families. The home console version of The Croods Prehistoric Party is better. The hand held allows families to take the experience on the go though.

Madagascar 3 The Video Game on the Nintendo 3DS was not previously reviewed by Family Friendly Gaming. So it was neat to play it in Madagascar 3 The Video Game & The Croods Prehistoric Party Combo Pack. It is a side scrolling platform adventure where each of the animals can be used.

Expect to swap animals in Madagascar 3 The Video Game frequently. Especially in later levels. Certain animals can only interact with certain objects. Like Melman is the only one who walks the tightrope. Or Gloria is the only one that can swim underwater. The game shows an image of the right animal, and shows words right before hand.
It is great getting two games in the same package for the price of one game. Deals like that are something families can get behind. The only problem is if you already purchased one or both of these previously. It would nice to know before hand that games will be grouped together like this.
Families can get a lot of replay out of Madagascar 3 The Video Game & The Croods Prehistoric Party Combo Pack. The price is fair, especially considering how much game content there is. Both of these hand held games are pretty decent. Put them together and its a win-win for everyone.
- Kid Gamer
Graphics: 77%
Sound: 84%
Replay/Extras: 90%
Gameplay: 80%
Family Friendly Factor: 76%

System: Nintendo 3DS
Publisher: D3 Publisher
Developer: Torus Games
Rating: 'E' – Everyone
{Mild Cartoon Violence}
Company Provided Product



Want more info on this product, or the company that made this product?
Set web browser to:
Link
Got a question, comment, or a concern regarding this review?
Email them to:
GameReviews@familyfriendlygaming.com